Design Workshop with Ed Henninger
August 14, 2015 @ 10:00 am

-

4:00 pm

$75 – $125
Friday, August 14, 2015 from 10:00 AM to 4:00 PM
Burnsville, MN
Join the Minnesota News Media Institute and trainer Ed Henninger, one of the world's leading design consultants for community newspapers, for a daylong workshop focused on news design.
Last summer, Ed's news design session sold out! This year, he's back in Minnesota for more. Ed has worked with newspapers all over the world and is bringing his expertise to MNA members for one day only!  Seats are limited so sign up today.
Morning session:
You Call the Shots is a bold, new presentation idea offered nowhere else. Leave it to Ed Henninger to break the mold again!
The concept is simple: We ask those attending what topics are most important to them. What questions do they have about news design? What do they most want to know? What design points can we clear up for them?
Attendees will review Ed's list of 101 topics, and check off the items they most want to discuss. We will tabulate the returns, placing those topics that gain the most interest at the top of the list for Ed's presentation.
Some of the topics are more about philosophy, design thinking and approach. Others focus more on assembly, design details and getting the job done quickly and efficiently.
Click here to download Ed's list of 101 topics
Afternoon program:
Page Evaluation Session: participants will submit PDF files from their papers ahead of the workshop for on-the-spot evaluations on August 14:
Page 1.
Sports front.
Feature front.
And inside page of their choosing.
About the presenter: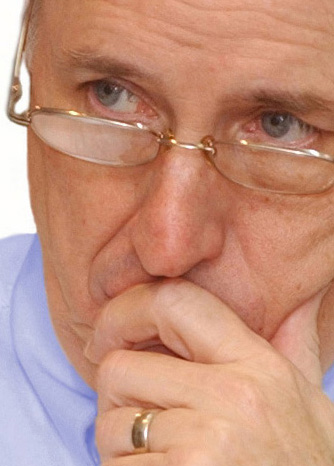 Ed Henninger has been an independent newspaper consultant since 1989 and is the Director of Henninger Consulting in Rock Hill, SC. He is universally recognized as the world's leading design consultant for community newspapers.
The Southampton Press, one of Ed's redesign clients, recently was named the Best Community Newspaper in the nation by the National Newspaper Association. From the judges: "Spectacular package of information—news, features, photos, ads—all excellently produced. Clean, fresh design, layout throughout. Great No. 1 in a strong field."
The Western Catholic Reporter, a Henninger Consulting client, was recently named the best designed church paper in all of Canada by Canadian Church Press. The judge said The Western Catholic Reporter had "a sophisticated presentation of news through images, design and typography. Every page is a surprise, interesting in its treatment, complex in design, yet easy to read." The Western Catholic Reporter, he said, is "a paper to be proud of."
Workshop Information:
Date:  Friday, August 14
Better Business Bureau Events Center
220 South River Ridge Circle
Burnsville, MN 55337
REGISTRATION FEE: $75 (early bird registration) / $125 (regular registration) —
fee includes lunch
REGISTRATION DEADLINE:  Friday, August 7
QUESTIONS? NEED OVERNIGHT ACCOMODATIONS? Please contact Sarah Jackson at sarah@mna.org or 612-278-0250.