Exploring Respect in Reporting
October 22, 2015 @ 7:00 pm

-

9:00 pm

Free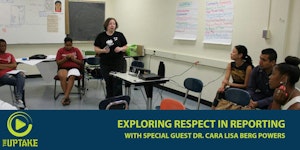 Join The UpTake's Conflict-Sensitive Video Journalism Fellows and Respect in Reporting Expert Dr. Cara Lisa Berg Powers  to learn more about the Respect in Reporting campaign and how the lessons learned can be applied here in the Twin Cities.
In 2011, Boston's Press Pass TV worked with families that had lost young people to violence to produce a powerful multimedia exhibit called "Anonymous Boston." The exhibit was an exploration of loss, power, media, race, poverty and violence, AND a space in which the community was able to come together to explore the root causes and potential solutions to violence. One event, "If it Bleeds it Leads" brought local media together with community members to learn about guidelines for covering urban violence developed by the families in conjunction with journalists. These guidelines are the basis of the Respect in Reporting Campaign and a pledge area journalists were asked to take.
This event is free and open to the public in partnership with The Minnesota Pro Chapter of the Society of Professional Journalists, The Minnesota Journalism Center and The Conflict Resolution Center of Minnesota. Seating is limited. Tickets required.
You may attend this event virtually, by visiting theuptake.org to watch live on Oct. 22 at 7 p.m.