NNA's We Believe in Newspapers Leadership Summit
March 18, 2015

-

March 19, 2015

Rates Vary
Event Navigation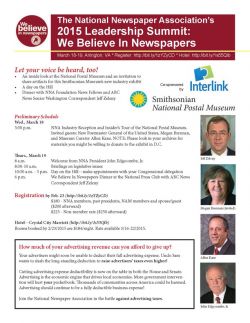 Mar 18, 2015 – Mar 19, 2015
Marriott Crystal City, Arlington, VA. 
Members of the National Newspaper Association will travel to Capitol Hill to present issues important to community newspapers to congressional leaders. Guests who wish to stay longer or arrive earlier on any of the contracted dates will be able to change the dates to their liking.
To Register for the Summit, click here.
Marriott reservations: 800-228-9290 or 703-413-5500.
For online hotel reservations, go here.