Photoshop, InDesign and More with Kevin Slimp
October 28, 2016 @ 9:00 am

-

3:30 pm

$75 – $125
Event Navigation
If you've attended one of Kevin's workshops before, you know there is never a dull moment in the day! Join us to learn how you can work smarter in Photoshop and InDesign. Leave with tips and tricks you can put to use immediately.
The schedule:
9:00 – 9:30 a.m.
Registration
9:30 a.m. – 12:00 p.m.
A full morning of Photo Editing, Color Correction & Learning to Use Even More Photoshop Tools
Kevin Slimp has been teaching photo editing since before most of us ever heard of Photoshop. Working on-site with hundreds of newspapers each year, his most requested training is by groups who want better photo reproduction on the page. Bring two pens. You will take that many notes.
12:00 – 1:00 p.m.
Lunch Break
1:00 – 2:00 p.m.
Page Design and Ad Design Tips
It's easy to get stuck in a design rut. That "deadline" thing always seems to get in the way of trying new things and developing new skills. In this session, Kevin will discuss simple things that can make a big difference in page and ad design.
2:00 – 3:00 p.m.
One hour of Even More InDesign Tips
Kevin Slimp worked with InDesign before it even had a name. He was involved in the development of the application and trained a group of 98 newspaper designers in Phoenix how to use the application the first week it was on the market. He's learned a lot in the 17 years since, and he's going to share some tools that will increase your productivity and design.
The Speaker: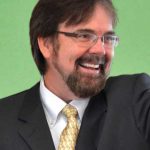 Kevin Slimp has been training newspapers in the latest technology for more than 20 years. As director of the internationally acclaimed University of Tennessee Institute of Newspaper Technology and the CEO of Newspaper Academy, he continues to stay on top of production technology and issues that effect newspapers. His work is regularly featured in industry-related publications throughout the world. Affectionately called "News Guru" by many in our industry, Kevin comes to us with an understanding of the industry paralleled by few. Don't miss this chance to learn from the News Guru as he joins us in Minnesota October 28.
Workshop Information:
Date:  Friday, October 28
Registration begins at 9:00 a.m.
Session begins at 9:30 a.m.
Better Business Bureau Events Center
220 South River Ridge Circle
Burnsville, MN 55337
REGISTRATION FEE: $75 (register by Oct. 14)/$125 — fee includes lunch
REGISTRATION DEADLINE:  Tuesday, Oct. 25
Register online now: https://slimp1016.eventbrite.com
QUESTIONS? NEED OVERNIGHT ACCOMMODATIONS? Please contact Sarah Jackson at sarah@mna.org or 612-278-0250.